Commuting.  It's a reality not only for large metro areas, but even for our little corner of Montana.  Winter makes our commutes especially challenging and treacherous.  Most local commuters are heading into Bozeman from the surrounding communities of Three Forks, Manhattan, Belgrade, and Livingston, but many also make their way from Bozeman to Big Sky.  We wanted to share some commuter resources available to you to plan ahead and get the most up-to-date information at any time.  We'll also share some public transit options that can help with gas money and stress.
Commuting in Bozeman and Commuter Resources
Montana DOT Road Condition Report
This is probably the single most valuable tool available to local commuters for the winter.  You can access this interactive map by visiting 511mt.net or downloading the app.  Commuting in Bozeman can be a challenge in winter!  In addition to providing current road conditions for all state-maintained highways, it provides real-time webcam views of strategic locations so you can see for yourself what road conditions and traffic look like.  For our community, these webcams include Bozeman Pass, Norris Hill, and Highway 191 at Karst.  The map is also updated in real time with hazards like road closures and accidents so you can plan alternative routes.  Below is a typical view of the map along with data provided by the webcams.  Our recommendation: never leave home without checking it!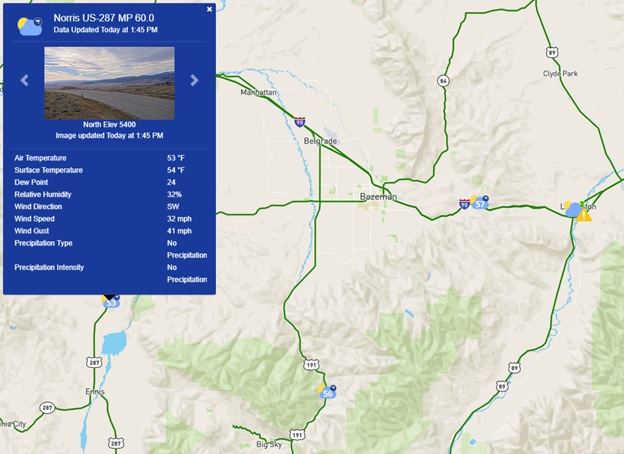 Bozeman Hill Road Conditions Facebook Group
This community-run Facebook page is about as real-time as you can get!  This private group allows members to post the latest information from Bozeman Pass as they see it.  This may be the first place you see an accident reported or a change in conditions that Montana DOT hasn't updated yet.  If an accident has a lane blocked on I-90, this will likely be the first place you'll see it and they'll be posting it stuck in the traffic!
Commuter Resources – Public Transit Options
Most commuters like the autonomy of getting themselves to and from work.  We get that!  But if you'd like a break from driving and to save a little gas money, consider these options.
Belgrade to Bozeman: take Streamline's pink line between the Belgrade High School and Wal-Mart in Bozeman. This route runs four times per day and links up with Streamline's service in town.
Livingston to Bozeman: this Streamline seasonal route goes between Livingston and Bozeman two times per day on weekdays October through April and links up with Streamline's service in Bozeman.
Bozeman to Big Sky: the Skyline Link bus offers service seven days per week with variations based on the season. Multiple stops are available in Bozeman and Four Corners and connect with routes around Big Sky itself.
Have questions about what we've discussed here?  Reach out!